By Kimberly Wilkes, author of Eastern Sierra And Death Valley Camping With Privacy
Here are five campsites that not only have lots of privacy—they also offer the opportunity to cast a line only a few feet away from the picnic table. These campsites are so close to the water that fish almost jump into your lap.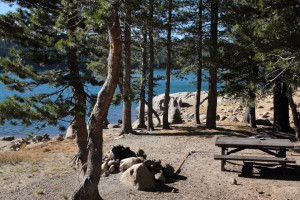 #17 Lower Blue Lakes Campground, Near Hope Valley
Privacy Rating: A+
Reservable? Yes. Visit www.recreation.pge.com for reservations.
This site is a dream come true for people who like privacy, great vistas, and fishing for rainbow and cutthroat trout. Lower Blue Lake stretches out immediately behind #17, in view of the campsite. The space to the left is hidden behind a small rocky hill and some conifers. To the right, there are no other campsites, only a view of a rocky point jutting out into the lake, begging anglers to cast their lines. Even though Blue Lakes Road is in front of this campsite, #17 is tucked backed far enough that any traffic passing by shouldn't create a distraction. No other camp spaces are directly across the street. It's a sunnier spot than the other sites in the campground, but it has some shade. If you're able to snag this spot you have good camping karma.
#11 Gull Lake Campground, June Lakes Loop
Privacy Rating: A-
Reservable? No. First-come, first-served.
The lake stretches out immediately behind this pine-shaded campsite. It's like camping on the edge of a sapphire jewel. You have to walk only a couple of strides to cast your line for rainbow trout. Your parked vehicle will partially block from view another campsite sitting to the right of this one. Plus, aspens and evergreens filter some of the view of your neighbor. To the left, there are no other spaces, only a forest of aspens. A couple of willows on the banks of the water partially screen you from view of the houses across the lake. Like all the campsites in this campground, you'll hear some road noise.
#30 Tuff Campground, Tom's Place
Privacy Rating: A+
Reservable? Yes. Visit www.recreation.gov for reservations.
This site is the cream of the campground privacy crop. It's so private that you can't even see the campsite from the driveway. A short path through the willows and other vegetation leads to the site, which sits in the middle of a circle of aspens and willows. Through the vegetation, there is just the barest hint of a view of the neighbor to the left, but they're much closer to the road than #30, so your back will be to what little view you have of that spot.
Not only is the right side of #30 free of neighbors, but also on the other side of the vegetation the stream takes its time passing the grassy shores, forming a peaceful pond where brown and rainbow trout are waiting for your lures, baits, and flies. While you're fishing, you'll have a great view across the stream of one of the coolest tuff formations in the campground, an outcropping of ruddy colored rock studded with holes.
There are plenty of other fishing opportunities nearby including fishing for brown, rainbow, or golden trout in Rock Creek and Crowley Lake, and many other backcountry streams and lakes.
Behind #30 there are no other campsites, and this spot is so well hidden from the road that it wouldn't matter if there was an entire neighborhood across the street.
#59 East Fork Campground, Rock Creek Canyon
Privacy Rating: B-
Reservable? No. First-come, first-served.
While not the most private site in the campground, #59 does have one huge advantage: Rock Creek flows within view about 40 feet behind the camp space so it's just a hop, skip, and a jump from your picnic table to where brown and rainbow trout await. Located on a little plateau overlooking the creek, #59 has no neighbors on the right or behind it. The driveway for another space sits about 15 feet away to the left, although low-growing vegetation partially filters the view of any car parked there. If an RV pulls into that site, it might feel a bit more intrusive to tent campers, but the neighboring site's driveway is staggered back from #59. And a campsite is visible across the campground road. But aim your chair at the creek and you'll never know you have neighbors on the other sides. A path meanders along the creek between #59 and the stream, and you can follow it as far as you want to fish the many pools in the creek to your heart's delight.
 #10 Upper Sage Flat, Big Pine Creek Canyon
Privacy Rating: A+
Reservable? Yes. Visit www.recreation.gov for reservations.
You're going to have to fight for this spot when making reservations on recreation.gov because it's popular—and rightly so. At the end of a cul de sac, it has no neighbors behind, to the left, or right. It has a wonderful view of the creek—which ambles along to the right of the site. That means you're a stone's throw away from a rainbow trout dinner. A little ways up the road, Glacier Lodge has a trout pond that's great for kids.
Bonus Tip: If you want to discover another 102 campsites where you can fish feet away from the picnic table, read our book Eastern Sierra and Death Valley Camping with Privacy: Your Guide To The Most Private Campsites Near Mammoth Lakes, Tuolumne Meadows, Death Valley, And Beyond. In a table at the back of the book, you'll discover the exact campsites where you can fish within seconds of climbing out of your sleeping bag in the morning or emerging from your motorhome. Throughout the book, we also point out campsites that are good choices for anglers and critique the spaces that have the most privacy.
I Love The Eastern Sierra is a participant in the Amazon Services LLC Associates Program, an affiliate advertising program designed to provide a means for sites to earn advertising fees by advertising and linking to Amazon.com. We will only become an affiliate for books we have read or written or products we have used in order to make sure we are only recommending the highest quality books and products. Participating in the Amazon affiliate program allows us to raise extra funds so we can continue to provide you with great free content about the people and places of the Eastern Sierra.