The bad news? It's not a super bloom year. The good news? Death Valley National Park wildflowers are in bloom. You're just going to have to look harder to find them.
Photos By Patrick and Kimberly Wilkes
In a drought year like this, the blooms usually appear where it actually did rain throughout the year. However, we have found that certain places in Death Valley reliably produce at least some wildflower color even with very little to no rainfall.
Just remember that in a drought year, it's more important than ever to get out of your vehicle and walk around a little way. Do this, and you're more likely to strike wildflower gold. If spring storms are brewing, be on the lookout for clouds up canyon and turn around if flash floods threaten.
Here are some places where you're more likely to find Death Valley wildflowers in drought years:
 

Titus Canyon
Even in years when Death Valley was starved of rainfall, Titus Canyon treated me to a kaleidoscope of color. I'm not talking about fields of wildflowers like you see between Furnace Creek and Badwater on a good year. But patches of evening primrose, Mojave asters, desert globemallow, rock nettle, and other flowers sprout up next to the canyon walls.
The show is especially vibrant for the first couple of miles leading into the canyon from the west side parking area off of Scotty's Castle Road. The best time to catch the color? Mid-March to Early April.
You can drive into the canyon from Scotty's Castle Road. Although the conditions can change, the two-way section from west is usually okay for two-wheel drive, standard clearance vehicles. But if you really want to see the wildflowers, it's best to hoof it into the canyon.
Want to enjoy Death Valley Wildflowers all year? Buy beautiful t-shirts and coffee mugs featuring desert five-spots, beavertail cactus in bloom, sunny yellow brittlebrush flowers, and more.Visit our Zazzle store to find these Death Valley mementos, featuring the photos of acclaimed nature photographer Patrick Wilkes.
Mesquite Springs Campground and Death Valley Wash
In mid- to late March, the magenta blooms of beavertail cacti add splotches of color to the campground and Death Valley Wash behind it. Camp here and one or two of these cheery flowers might brighten up your space. Or stroll up or down the wash to spot the intense pink blooms against a backdrop of impressive cliffs.
Creosote bushes around the campground and surrounding areas add to the color with clusters of yellow blooms that often hit their peek the same time as the cacti.
Which Campsites In Mesquite Springs Campground Have The Most Privacy? Read Our Book Eastern Sierra And Death Valley Camping With Privacy To Find Out.
Badwater To Ashford Mills
Driving from Furnace Creek, after you pass Badwater, keep your gaze riveted on the left side of the road. During the Super Bloom of 2005, the desert gold dropped a lot of seeds here so this area comes alive with splashes of color every year since.
Drive farther along the road to Ashford Mills, and you might catch a glimpse of some desert gold and pink sand verbenas against a backdrop of the Ashford Mills ruins. The Super Bloom of 2005 was also good to this area, and remnants of that over-the-top event still remain. In both places, look for color anytime from late February through early April.
Ashford Mills is located 44.5 miles south of Furnace Creek, on Badwater Road (Highway 178).
Hummingbird Springs and Charcoal Kilns Area
Scarlet-colored paintbrush add surprising patches of color alongside the road leading to the Hummingbird Springs hike between mid-March to mid-April. Time it right and you'll also see paintbrush at the beginning of the hike to Wildrose Peak. The Hummingbird Springs hike is located between Wildrose Campground and the Charcoal Kilns. For specific directions, see our blog post about hiking away from the crowds in Death Valley.
Harry Wade Road
You'll need a high-clearance, four-wheel drive vehicle to drive on this road, which often is covered in deep sand. Don't expect the display here to be as spectacular as it was during 2016's super bloom. But Harry Wade Road, which connects Highway 127 to Badwater Road, usually provides some nuggets of color beginning from late February through early April.
Joshua Trees Along Highway 190 And Lee Flat
Joshua Trees are some of the most interesting plants in Death Valley. To me, some of them look like creatures with shaggy arms lifted up to the sky. These unique plants produce large white blooms in late March to early April. The best place to see them in Death Valley? Along Highway 190 driving in from Lone Pine as the road approaches the park entrance. If you have a 4WD, high clearance vehicle, venture out to the Joshua tree forest at Lee Flat on the road to Saline Valley.
You Might Also Like. . .


Death Valley Hiking Away From The Crowds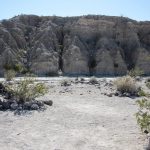 Death Valley Camping – Which Campgrounds Have The Most Campsites With Privacy?