Looking for the perfect gift for your friends, loved ones, bosses, coworkers, and clients?
It's not always easy to find something that will make them happy. But if you know someone who loves nature, the options below are sure to bring a smile to their faces. From Death Valley gifts to nature-themed T-shirts to a useful gift for people who like to go camping, these ideas may help you cross a few people off your gift list.
Nature-Themed and Inspirational T-Shirts
Are there people on your gift list who are nuts about nature? Or maybe they love wildflowers and the way Death Valley bursts into bloom every spring. Then again, maybe they have a soft spot in their heart for the Eastern Sierra.
In our Zazzle store, we've introduced many T-shirt styles that make a perfect gift for anyone who falls into those categories. These T-shirts all feature the stunning nature photography of Patrick Wilkes. You can even customize the shirts with different wording, typefaces, and colors.
Nature Coffee Mugs
Sip your coffee or tea from these beautiful mugs that pay tribute to nature, the Sierra, and Death Valley. Each of the mugs showcases a spectacular nature photo by Patrick Wilkes. And you can customize the mugs. Choose whatever colors, wording, and typeface you like.
Include chocolate with the mugs to make the gift extra sweet.
Did You Know That Looking At Nature—Or A Nature Photo—Reduces Stress?

Many studies have shown that contact with nature compared to urban settings can improve your mood, lead to increased levels of vitality, and help you recover from stress. These benefits may be due to the fact salivary levels of the stress hormone cortisol fall significantly in people spending time in nature.

Studies have found that even viewing photos of outdoor scenery activates brain areas linked with empathy and altruism. Giving your friends and loved ones gifts featuring nature photos can bring the outdoors into their lives even when they're stuck in front of their computers.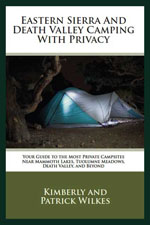 If your friends and loved ones go camping out West, our Eastern Sierra And Death Valley Camping With Privacy book will help them find the most perfect and peaceful campsite—whether they're making reservations on recreation.gov or reserveamerica.com or when visiting first-come, first-served campgrounds.
We looked at 3,416 campsites in 91 campgrounds throughout the Eastern Sierra (including Mammoth Lakes) and Death Valley—then we critiqued and rated each campsite according to its level of privacy.
Eastern Sierra And Death Valley Camping With Privacy is the only book of its kind that critiques and rates individual campsites. It includes a description of each campsite with privacy so you'll know exactly what the campsite is like. We also gave each campsite in the book a grade from A+ to C+, based on the site's privacy.
Perhaps you simply enjoy being surrounded by quaking aspens. Or you want to be far away from neighbors' lights so you can view the stars at night. Maybe you prefer to camp as far away as possible from rowdy neighbors. Eastern Sierra And Death Valley Camping With Privacy allows you to rest and rejuvenate in camp spaces that are the most private in the campground.
Plus this travel guide features a description of each campground in addition to activities and restaurants that are located nearby.
And you'll find a special section listing campsites where anglers can fish steps away from the picnic table.
For most of the campgrounds, it also lists whether Verizon cell phone service is available.
Here's what a reviewer on Amazon had to say about the book:
"It is an excellent book, very informative and accurate. I have taken notes on most of the campgrounds that we visit. Comparing them to what is in the book, it is spot on. I would highly recommend grabbing a copy of this one. To the authors, thank you for spending the time putting together such a great resource. Well done!"
Buy Eastern Sierra And Death Valley Camping With Privacy on Amazon.
You Might Also Like. . .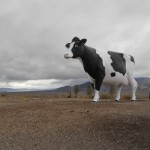 The Mooving Story Of The Giant Cow Near Death Valley
7 Great Places To See Wild Irises
Death Valley Hiking Away From The Crowds