By Kimberly Wilkes, Author of Eastern Sierra And Death Valley Camping With Privacy
If you drive from Las Vegas to Death Valley, you see something udderly out of place: a giant cow. Well, not a real cow. A fiberglass cow statue. It rises up in all its bovine splendor—8 to 14 feet high, depending on who you ask—from the parking lot of the Longstreet Inn and Casino, near where Nevada Highway 373 crosses into California in the Amargosa Valley near Pahrump, Nevada.
After doing a double take and hoofing my way over to the cow to take a photo, I started ruminating on how such an oddity ended up in the Nevada desert. The statue's backdrop of barren, wrinkled mountains in the distance only makes its presence seem even odder. I wondered if Longstreet Casino simply wanted to raise the steaks.
"Everybody wants to know why do we have a cow out there," says Monica Chavez, the Longstreet's general manager. "There's a big dairy farm out here as well, which is one of the main sources of employment. They have about 10,000 cows. People ask if it's linked to that and I say, 'No.' "
So why is there a giant cow statue in the Nevada desert? And what is the connection between the cow statue and Ivana Trump of all people? I'm going to milk this story for all it's worth as I answer those questions.
What's It All About, Alphie?
The Nevada desert did not give birth to this big bovine. She began the first years of her fiberglass life atop the Holy Cow Casino and Brewery in Las Vegas, located on the corner of Las Vegas Boulevard and Sahara Avenue from 1993 until it closed in 2002. She stood on the roof in front of a neon rainbow. In those days, this bovine beauty named Alphie wore a pair of sunglasses.
Alphie's former home was the first microbrewery in Las Vegas. Chicago Cubs sportscaster Harry Caray, known for exclaiming "Holy Cow!" during games, once visited the Holy Cow Casino and autographed a wall with his favorite saying. Caray trained himself to shout out "Holy Cow!" during broadcasts to stop himself from cussing on the air. His famous phrase was also the name of his autobiography.
Two years after the Holy Cow Casino and Brewery closed in 2002, plans were made to replace it with a $700 million, 940-foot condominium tower to be named the Summit. In 2005, due to Ivana Trump's involvement in the project, it was renamed Ivana Las Vegas. The former Holy Cow remained a sales office for Ivana Las Vegas until the project was dropped. The building was demolished in April 2012 and a Walgreens has sprouted up where Alphie our fiberglass friend once proudly looked out over Las Vegas Boulevard and Sahara Avenue.
Saving Alphie
By the time the Holy Cow Casino and Brewery met its maker, Alphie was long gone from her former home. Longstreet Inn and Casino owner Jim Marsh bought Alphie for $2,200—not including the cost of transporting her the 95 miles from Las Vegas to his casino hotel near Pahrump. In 2002, Marsh had Alphie hauled to her new home and placed in the parking lot of the Longstreet.
Jim Marsh has a soft spot in his heart for Nevada history. He's bought a handful of historic properties throughout the state, including a hotel and a couple of casinos in Tonopah, a bar in Pioche, and a hotel in Manhattan—that's Manhattan, Nevada, not the one back East. Alphie was a part of Las Vegas history, and without Marsh's intervention she may have been put out to pasture.
More Than One Giant Bovine
Marsh also is known for his love of animals. Alphie wasn't the only bovine he saved. His friend was raising a Holstein steer named Herman. In 2004, when his friend decided to fatten up the steer for slaughter, Marsh paid him $600 for the animal to save its life. He moved Herman to the Longstreet, where he raised it in a stall near the casino. Herman grew into what was unofficially the world's largest steer at 3,000 pounds and more than six feet tall. Sadly, Herman went to that great pastureland in the sky in 2013 after succumbing to cancer. He's buried near the Longstreet RV Park.
Back when Herman was alive, visitors trying to figure out the oddity of a big cow statue in the middle of the Nevada desert thought it was meant to pay tribute to the steer. But Alphie arrived two years before Herman. And she has a beef with anyone who thinks she's a male.
Yes, it's an odd sight in the Nevada desert. But if you're driving along Highway 373 on your way to or from Death Valley and you see a giant bovine looming up on the side of the road, remember "don't have a cow."
Camping At Death Valley Or The Eastern Sierra? Discover Exactly Which Campsites Are The Most Peaceful In Our Book Eastern Sierra And Death Valley Camping With Privacy: Your Guide To The Most Private Campsites Near Mammoth Lakes, Tuolumne Meadows, Death Valley, And Beyond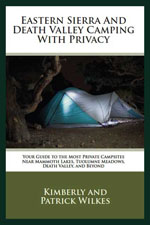 We looked at 3,416 campsites in the Eastern Sierra and Death Valley to find out which ones have the most privacy. Then we critiqued and rated the best campsites in our book.
Buy the book and you'll discover:
• Exactly which campsites on recreation.gov and in first-come, first-served campgrounds are the most peaceful and private.
• Which campgrounds have cell phone service.
• The campsites that are farthest away from their neighbors, reducing the chances that you'll be kept awake by rowdy campers next door.
• Which campsites are surrounded by vegetation, blocking your view of neighbors and allowing you to gaze up at the stars without worrying about bright lights in the space next door.
Buy Eastern Sierra And Death Valley Camping With Privacy and beat the other campers to the best campsites.

I Love The Eastern Sierra is a participant in the Amazon Services LLC Associates Program, an affiliate advertising program designed to provide a means for sites to earn advertising fees by advertising and linking to Amazon.com. We will only become an affiliate for books we have read or written or products we have used in order to make sure we are only recommending the best quality products. Clicking on an Amazon affiliate link on our site does not cost you anything, but it allows us to raise extra funds so we can continue to provide you with great free content about the people and places of the Eastern Sierra.