Most Photography by Patrick Wilkes
Updated November 8, 2018
I'll warn you right now. When camping at Death Valley, you might have to lower your standards. Here, campsites with privacy take on a whole new meaning. There are no aspen trees or other deciduous vegetation blocking the view of your neighbor. There aren't any pines or firs either, at least not at the lower elevations.
At Death Valley, camping with privacy means finding a campsite far enough away from your neighbor. Or a campsite tucked under a Tamarisk tree or sheltered behind a creosote bush. In the high country of the park, pitching your tent under a juniper or pinyon pine will partly hide you from your neighbor.
When my husband and I were researching our Eastern Sierra And Death Valley Camping With Privacy book we looked at most of the campsites in Death Valley National Park. So we know all the Death Valley camping hotspots.
In this blog post, I'll show you three of the campgrounds in Death Valley National Park that have a large selection of campsites with privacy. And I'll describe one great campsite in each campground.
Texas Springs Campground Loop A
Best For: Tent Campers, Truck Campers, and Camper Vans. No RVS or trailers allowed on Loop A, although teardrop trailers could fit in some spots.
The tent section of Texas Springs Campground (Section A) has a handful of pleasant campsites that outshine many other spots in the park. It's located next to a tiny, spring-fed creek, which runs behind some of the camp spaces. Tamarisk trees provide shade in some areas, but many spaces are out in the open.
This campground boasts some of the best tent camping spaces in the valley itself—if you can beat everyone else to them. Of course, you'll have the best luck during the week, non-holiday.
One Of Our Favorite Campsites at Texas Springs Campground
#A26 Privacy Rating: A
Reservable? No. First-come, first-served.
A grove of tall tamarisk trees shade much of this campsite, which also has a view of the Furnace Creek area and the Panamint Mountains beyond. No other campsites intrude on the left or right. The one visible neighbor is behind and to the right of the site. From where you set up your tent in the trees, you won't see that neighbor at all. But from the picnic table and the fire pit you'll have a full view of them. Still, the two spaces are far enough apart. And there are some low-growing tamarisk trees in between. So the neighbor's proximity doesn't ruin the site's privacy. Tent campers, truck campers, and people with camper vans will all enjoy this site.
Which Other Campsites In Texas Springs Campground Have The Most Privacy? Read Our Book Eastern Sierra And Death Valley Camping With Privacy To Find Out.
Mesquite Springs Campground
Best For: RVs, Tents, Travel Trailers, Camper Vans, and Truck Campers
If you like privacy when camping, this campground overall is one of the best in Death Valley. Thanks to the creosote bushes and nice spacing between many of the campsites, we like this campground near Scotty's Castle much better than Furnace Creek Campground.
From a privacy perspective, it's by no means perfect. But it has the largest selection of campsites with privacy of any campground in the park.
It sits on the edge of Death Valley Wash and some of the campsites have a view of the interesting rock formations on the other side.
Another advantage? Because Mesquite Springs is at 1,800 feet above sea level it's 10 to 15 degrees cooler than Furnace Creek. This makes it a really desirable campground in spring, when the temperatures in the valley start to rise.
We've found it much easier to find a campsite at Mesquite Springs compared to the valley itself, although it does fill up on weekends.
One disadvantage: It's not near any of the natural attractions located in the valley itself. And with Scotty's Castle closed due to flood damage that takes away another attraction near the campground.
Still, Ubehebe Craters are nearby. Titus Canyon is not all that far away. Hiking up or down Death Valley Wash is interesting. And if you have a high-clearance 4WD you can rumble your way over to the Racetrack, the place where the rocks seem to move by themselves across the sand.
One Of Our Favorite Campsites at Mesquite Springs Campground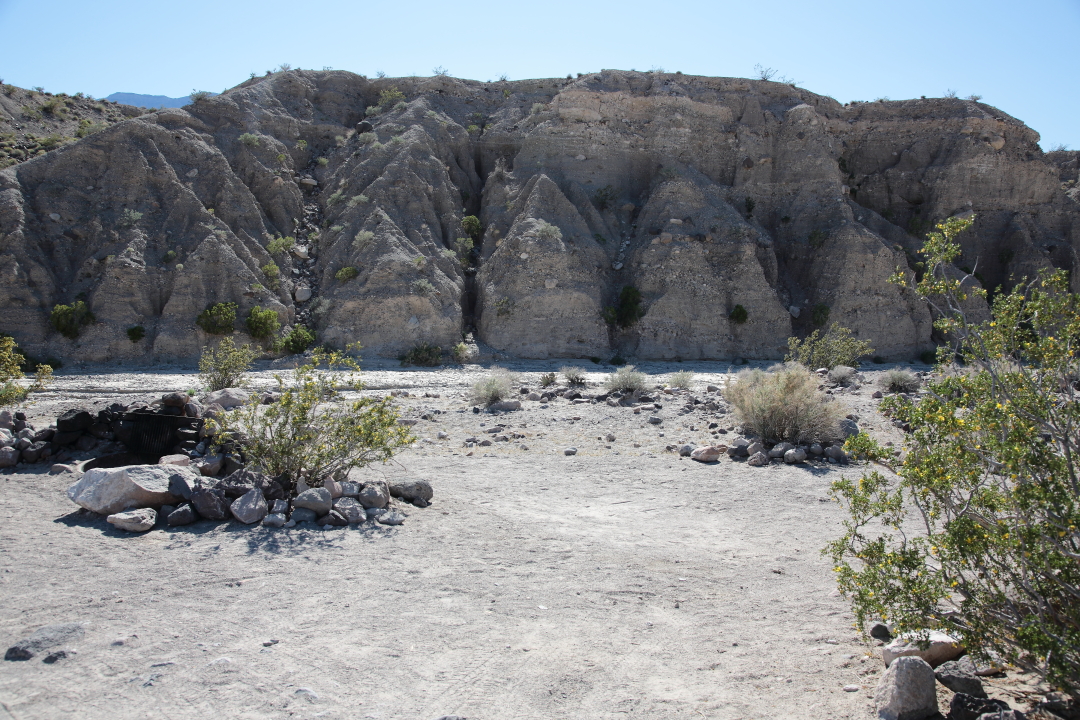 #27 Privacy Rating: B+
Reservable? No. First-come, first-served.
Mother Nature the artist sculpted the cliffs into an interesting rock formation that sits directly behind this campsite on the other side of Death Valley Wash. Perched above the wash, the campsite will definitely have a good view of any flash flood that roars past. Even though this site is clearly visible from the campground road, it has no neighbors to the right and no neighbors across the campground road, either. Its only neighbor is to the left, about 15 feet away, but a ditch and some creosote intervene between the two spots, creating good separation. This spot is great for travel trailers, smaller RVs, tents, truck campers, and camper vans.
Which Other Campsites In Mesquite Springs Campground Have The Most Elbowroom? Read Our Book Eastern Sierra And Death Valley Camping With Privacy To Find Out.
Thorndike Campground
Best For: Tents, Camper Vans, Truck Campers. Not suitable for RVs or Travel Trailers since the road to get there is too rough. 
Open March – November
This small campground is our favorite campground in Death Valley National Park. Many of the spaces here have tons of privacy and are a breath of high-altitude fresh air compared to the campsites at Furnace Creek and other places in Death Valley. The campsites are located under the pinyon pines and junipers. Many of the sites have stunning views of Wildrose Peak. Even better this campground is free.
In the past, passenger cars could have made it to the campground if driving slow and careful. However, this year, there's flood damage to the road and they're recommending high-clearance, 4WD vehicles from where the pavement ends to past the charcoal kilns. If you plan to camp here in the spring or summer, check Death Valley National Park's website for updates on road conditions. 
Although it's a small campground—only 6 campsites—we've had good luck finding spaces here. One year we arrived on a Saturday morning on Easter weekend and had no trouble finding a campsite.
The spots here are not numbered. And because it's located at 7,400 feet, it's only open from March through November, weather permitting.
A Word of Warning: There is no potable water at Thorndike Campground, so bring plenty of your own.
One Of Our Favorite Campsites at Thorndike Campground
1st Space on the Left
Privacy Rating: A
Reservable? No. First-come, first-served.
With a nice view of Wildrose Peak in front and no neighbors breathing down your neck on any side, this campsite is a gem. Another space sits behind this one, but it's on the other side of a screen of tall vegetation, so you'll only catch a glimpse of the people camped there.
A couple of tall junipers partially shelter this site from view of the campground road and the neighbors across the street, while at the same time providing a nice shady nook for the tent. It has no neighbors to the left or in front. Vault toilets are conveniently located in front of the campsite, just off to the side, so you don't have to look at them while you admire the view of Wildrose Peak. We camped in this site and loved it.
Which campsites in Furnace Creek Campground and Panamint Springs Campground have the most privacy? Which campgrounds in Death Valley should you avoid if you like privacy when camping? What attractions are near each campground? To find out, Read Our Book Eastern Sierra And Death Valley Camping With Privacy: Your Guide To The Most Private Campsites Near Mammoth Lakes, Tuolumne Meadows, Death Valley, And Beyond.
You Might Also Like. . .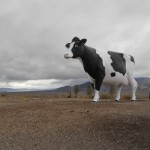 The Mooving Story Of The Giant Cow Near Death Valley
Death Valley Hiking Away From The Crowds
Where To Find The Best Death Valley Wildflowers
I Love The Eastern Sierra is a participant in the Amazon Services LLC Associates Program, an affiliate advertising program designed to provide a means for sites to earn advertising fees by advertising and linking to Amazon.com. We will only become an affiliate for books we have read or written or products we have used in order to make sure we are only recommending the best quality products. Participating in the Amazon affiliate program allows us to raise extra funds so we can continue to provide you with great free content about the people and places of the Eastern Sierra.