Turtle Rock Park Campground Update
OTHER CAMPERS HOPE YOU'LL NEVER READ THIS BOOK!
That's Because You'll Beat Them To The Best Sites In The Campground.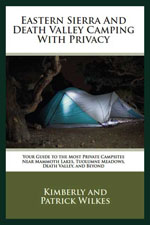 Eastern Sierra And Death Valley Camping With Privacy:
Your Guide To The Most Private Campsites Near Mammoth Lakes, Tuolumne Meadows, Death Valley, And Beyond


• Increase your chances of camping farther away from loud neighbors—and getting a good night's sleep.

• Discover exactly which campsites on recreation.gov and in first-come, first-served campgrounds are the most peaceful and private.

• Know which campgrounds have cell phone service so you don't miss an important call from the boss or your family.

• "It is an excellent book, very informative and accurate. I have taken notes on most of the campgrounds that we visit. Comparing them to what is in the book, it is spot on.
I would highly recommend grabbing a copy of this one. To the authors, thank you for spending the time putting together such a great resource. Well done!"
— One reader's review of Eastern Sierra And Death
Valley Camping With Privacy

Also available at:
• Range & River Books, Bishop
• Spellbinder Books, Bishop
• Hope Valley Resort • Sorensen's Resort Hope Valley • Booky Joint, Mammoth Lakes • Rock Creek Lakes Resort
• Mono Lake Committee Bookstore, Lee Vining
• Tioga Gas Mart
• Mammoth Lakes Welcome Center
• Eastern Sierra Visitor's Center • Shelby's Book Shoppe, Minden • Sundance Books, Reno
Affiliate Disclosure
I Love The Eastern Sierra is a participant in the Amazon Services LLC Associates Program, an affiliate advertising program designed to provide a means for sites to earn advertising fees by advertising and linking to
Amazon.com
. This means that when we include a link to Amazon, it's likely an affiliate link. Clicking on the link costs you nothing. However, Amazon pays us an affiliate fee when you purchase something through that link. This allows us to raise extra funds so we can continue to provide you with great free content.